On Saturday in France the Scarpa ISMF World Cup circuit will open.
Three races will be disputed on Puy Saint Vincent snow: the Individual Race, the Sprint Race and the Vertical Race.
The first delegations representing the countries enrolled for the first races of the World Cup are arriving now in Puy Saint Vincent, not far from Briancon.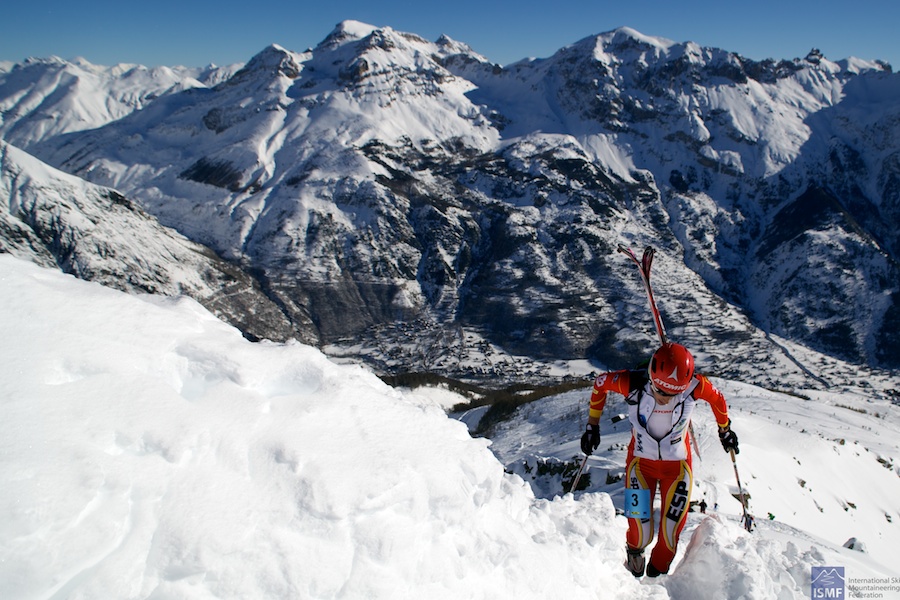 The programme of the French weekend includes two races to start with (the Individual Race and the Sprint Race), then after the cancellation of the Greek leg on Mount Olympus the International Federation, in agreement with the local Organizing Committee, decided to add the Vertical Race on Monday morning.
The programme drawn up by Team Ecrins will begin this afternoon with the opening ceremony, where all the teams will parade before attending the technical briefing for the Saturday's Individual Race.
Saturday morning at 9 o'clock the Individual Race will set off. The men will compete over 1780 metres of altitude gain with six uphill slopes, the women and the Junior men's category will face 1500 metres of altitude gain. In the highest part of the route there will be two stretches to be undertaken on foot, with skis in backpacks. The girls in the Junior category will compete on a route with an altitude gain of 1050 metres.
The Sprint Race will take place on Sunday morning at Puy Saint Vincent 1600. The salvaged Vertical Race, will also be held at Puy Saint Vincent 1600, on Monday morning, with an altitude gain of 620 metres.
The best of the sports athletes will be at the starting lines: Kilian Jornet Burgada (ESP), Marc Pinsach Rubirola (ESP), Nil Cardona Coll (ESP), Robert Antonioli (ITA), Manfred Reichegger (ITA), Damiano Lenzi (ITA), Pietro Lanfranchi (ITA), Matteo Eydallin (ITA), Lorenzo Holzknecht (ITA), Michele Boscacci (ITA), Davide Galizzi (ITA), Nadir Maguet (ITA), William Bon Mardion (FRA), Alexis Sevennec (FRA), Matheo Jacquemoud (FRA), Valentin Favre (FRA), Pierre Francois Gachet (FRA), Didier Blanc (FRA), Xavier Gachet (FRA), Anton Palzer (GER), Josef Rootmoser (GER), Yannick Ecoeur (SUI), Martin Anthamatten (SUI), Werner Marti (SUI), Iwan Arnold (SUI), Martin Weisskopf (AUT).
Of the women Laetitia Roux (FRA), Axelle Mollaret (FRA), Valentine Fabre (FRA), Marion Maneglia (FRA), Victoria Kreuzer (SUI), Jennifer Fiechter (SUI), Martina Valmassoi (ITA), Alessandra Cazzanelli (ITA), Elena Nicolini (ITA), Martina De Silvestro (ITA), Maria Fargues Gimeno (ESP), Marta Garcia Farres (ESP), Marta Ribas Carlos (ESP), Claudia Galicia Cotrina (ESP), Hildegunn Gjertrud Hovdenak (NOR), Inka Belles Naudi (AND), Janine Frost (GBR), Johanna Eriksson (SWE) will compete. Maude Mathys (Switzerland) and Sophie Dusautoir Bertrand will not take part.
< Back