Ski Mountaineering
Introduction
Ski mountaineering as a sport has evolved out of the ancient necessity of man to be able to move over hilly and mountainous terrain during the snowy winter months in an effective way. Archaeologists have discovered images that show figures moving on the snow on what look like wooden skis, and pictures from the middle ages indicate the use of 'skin's for snow covered ascents, orginally these were animal skins which at the beginning of the twentieth century were usually seal skins now they are synthetic. In the very earliest ski competitions there seemed to be little difference between the equipment used for uphill, downhill and cross country. All that of course has now changed and all the ski disciplines have very distinct identities and equipment, and even within ski mountaineering itself there are now different disciplines that require different abilities from the athlete. However, the ethos remains the same to be able to move over snowy, mountainous terrain powered only by the energy of the athlete him or herself.
Every year there are local and national circuits in those countries which have the right geography and weather, such as countries in the Alps, Pyrenees, North America, South America, Russia, Scandinavia, China, Korea and Japan just to name a few. There are distinct regional/continental circuits which are part of the ISMF calendar as well as an annual World Cup circuit, with Continental and World Championships taking place on alternate years.
ISMF ski mountaineering competitions are usually based on the use of lightweight equipment, for which the ISMF has set rules and safety standards. Skis are light, so they don't weigh the athlete down when they are strapped to the backpack, boots are made to be easy to wear both in ascent on skis, ascent on foot and while descending on skis with quick opening fastenings to adapt the boot to the right situation, bindings have to be able to switch between the uphill and the downhill necessities of the skier. In most races athletes are required to wear a helmet, and some there is also the use of more technical equipment such as ice axes, harness, rope and crampons. All races require the use of skins, these are wide self sticking strips of synthetic fur, more like bristle where the hairs slightly dig into the snow as the skier ascents, therefore stopping the skier from sliding backwards.
Full information about equipment is available on pages 8 & 9 of the ISMF Sporting & Ranking Rules.
For full information about the technical details of the ISMF events please refer to page 11 of the ISMF Rules for Organising International Ski Mountaineering Competitions – available for download.
VIDEO TEASER SEASON 2015
Team Races: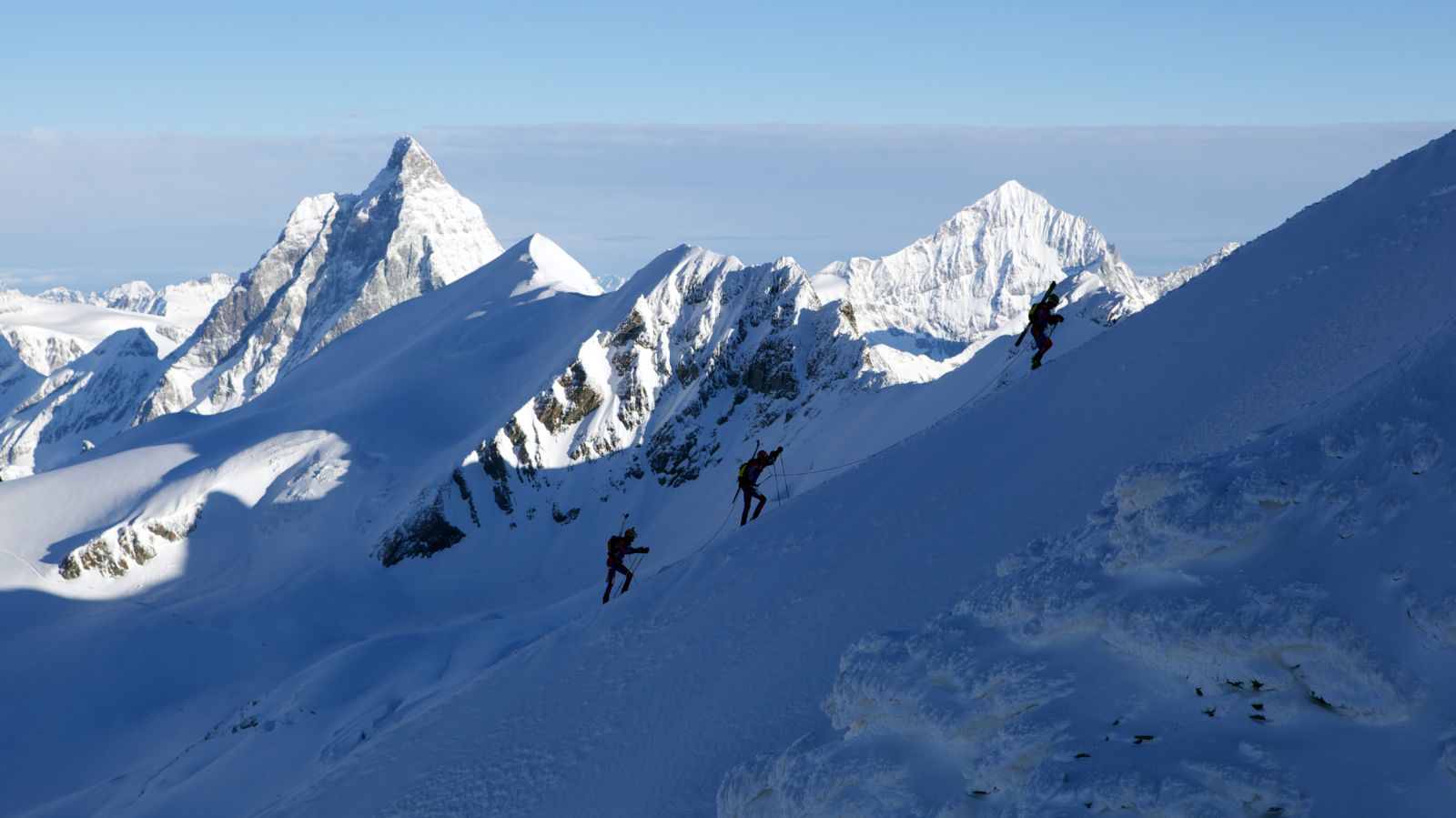 This is the most traditional form of the sport, with all early races being based on team events. Teams are comprised of two or three athletes, of the same sex and same age category for ISMF ranking. A spectacular event that takes the athletes to the mountain tops, and must include at least 3 ascents and descents, the long distance races include even more. Races frequently transit the crests of mountains and athletes use a harness and cord, and crampons to ascend the most difficult couloirs, descents will be off-piste. A standard team race will last a maximum of 3 hours and cover an a total height gain of around 2000m, whilst some long distance events may be based on much greater distances and over more than one day. As with all ISMF events safety is of the utmost importance, and the tradition of facing the mountain as a team was originally based on the concept of crossing these awe inspiring environments in a safe way.
VIDEO TROFEO MEZZALAMA
The Individual Race: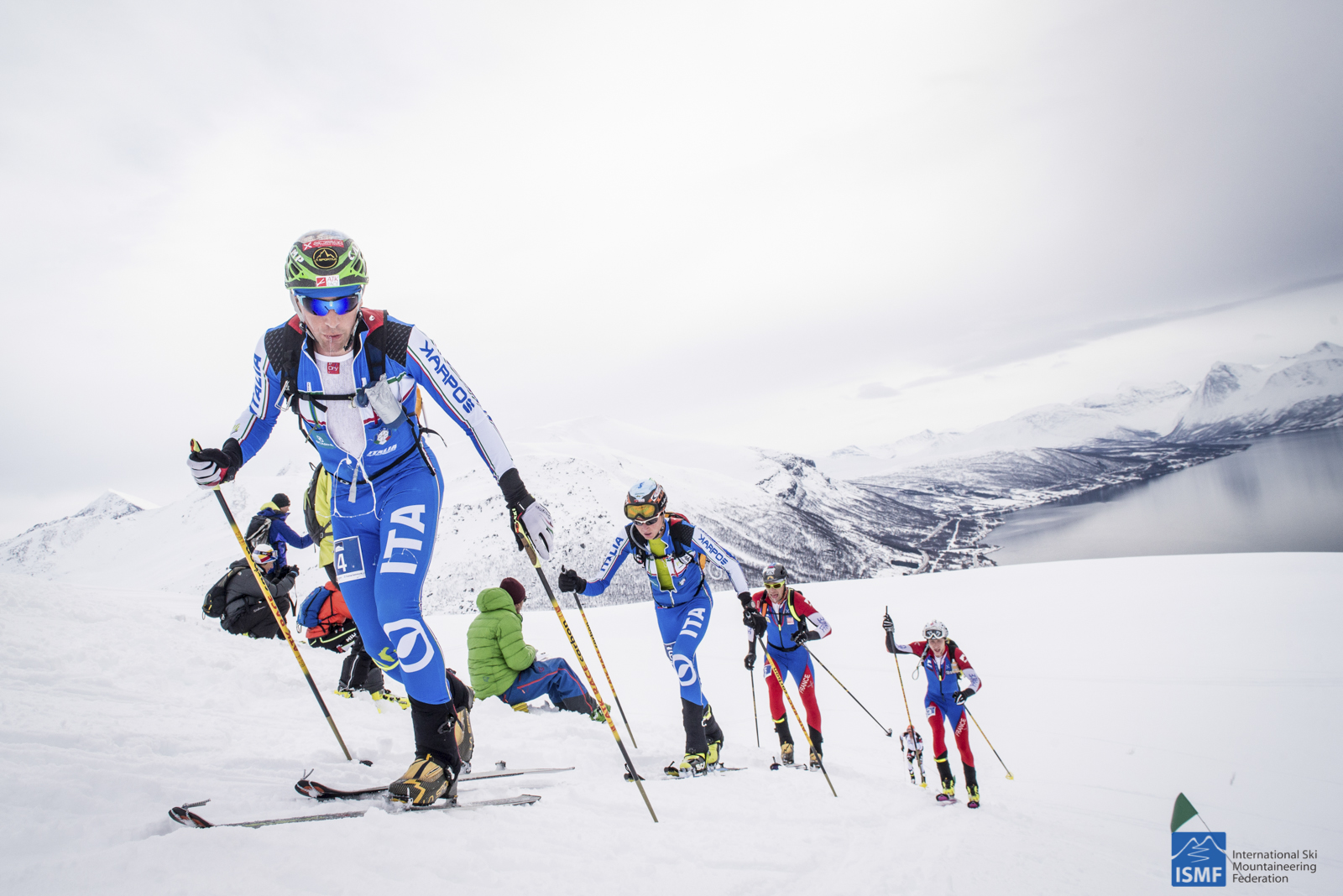 This takes elements from the team race, but is based on the single individual athlete. Again there will be at least 3 ascents and descents. As with the team event there will also be a section on foot with the skis carried on the rucksack, although some ISMF events no longer use harness and cord, they still might have to use crampons for steeper, icier ascents. Races normally last from one and a half to two hours and cover a total hight gain of up to 1900m. As with the team events the race start is a mass start of all the athletes.
VIDEO COURCHEVEL INDIVIDUAL RACE
The Sprint Race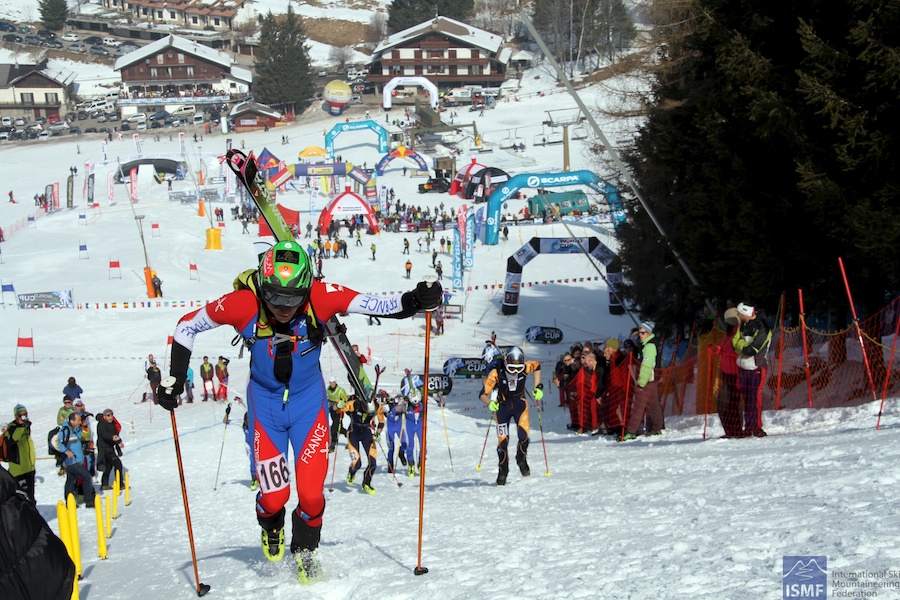 This is a mini Individual race, combining the essential ski mountaineering features and techniques with an ascent on skins, part of the ascent on foot with skis on the rucksack and then from the top a single descent. As the title implies this is a very fast race, and is based on completing the total course in approximately 3 minutes for the fastest racers. The total ascent and descent is about 100m, with athletes starting and finishing in almost the same point. The first round is an individual qualification with athletes starting one after the other every 20 seconds, after the qualifying round athletes face each other in heats of 6. Although the ascent is usually on well packed snow , the descent is supposed to be fun and can be off-piste, with gates and with small jumps.
VIDEO PITTURINA SPRINT RACE
The Relay
The relay race takes place in a team of 3 or 4 competitors, but with members of the team carrying out the 'circuit' one after the other, with each athlete racing once. Again this is quite a fast event, with each circuit lasting about 15 minutes, and including 2 ascents and descents, and a short section with the skis on the rucksack. The total height gain is about 150 to 180m.
The Vertical
As the tile suggests the vertical race is an uphill only event. It is usually carried out on well packed snow with the whole race taking place with skins under the skis in a single, long ascent. It is a race to the top, and should not exceed a height gain of more than 700m.
VIDEO VERBIER VERTICAL RACE
< Back